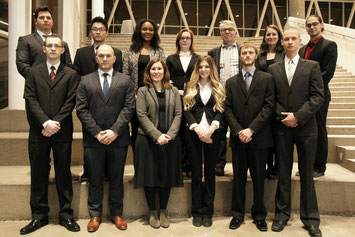 The team has finally been completed! The students of the winter session have joined the previous members and are ready to start the final preparations. To make sure we stay efficient, the team has been separed into smaller groups.
---
The group will be divided in many smaller groups, because this project requires a lot of planning that we could imagine. Being developped in its entirety by the students, under the supervision of the ÉTS's 3 members, a considerate amount of different aspects are to be elaborated before, during and after the mission.
A sub-team will take care of the financing aspect. They will try to approach potentials partners for the mission. Furthermore, they will also organized funding activities like chocolate sales and organizing a promotinal fund raising evening.
Another one will be in charge of the budget of the mission. Every expense is thoroughly calculated and many factors have to be taken into this estimation for the project's success. Among those, the change rate, the hotels and the transportation all need a lot of calculation.
Of course, a team is gonna be in charge of the Blog and the Facebook page. This will alow you to follow the entire mission during its development, but also during the mission itself.
The transportation will require a lot of logistic for our numerous trips. We will need to plan them carefully. A team will be in charge of that task that we consider very demanding, because it is primordial to be on time at every meetings, especially in a country like Japan.
A team will also take care of many reasearches about the japanese culture so they can present to the group some sentences to know in Japanese and the Do's and Dont's in that country.
Moreover, each week, someone will be asigned as the secretary of the reunion and will take care of leading it. With all those sub-teams, we believe it will be possible to ensure the mission's success!