For the second day of our stay in Kyoto, we took the train to the city of Itami, near Osaka, to be received by the Toyo Rubber team in their technical center.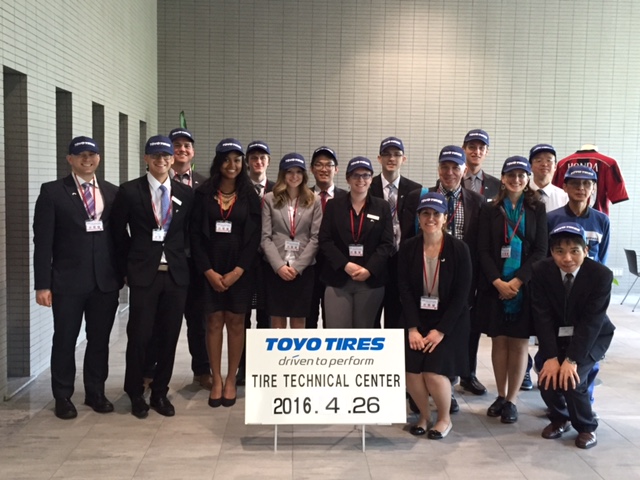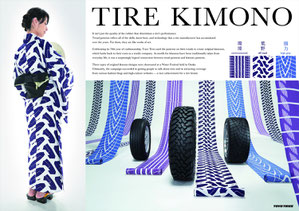 The company , which specializes in the production of Toyo and Nitto tires, but also in rubber products for various purposes, was possible to be visited because it is the company in which Amelie's father is working in the canadian division. Having already received Japanese employees from Toyo in their Quebec's home, it was their turn to welcome us warmly.
After offering us lunch, we assisted at the manager presentation, followed by the viewing of the promotional videos, which are available on Youtube. The visit ended with a complete tour of the installations that was very interesting.
The making process of tires is a lot more complicated than it seems to be. Indeed, the engineers first use simulation softwares to elaborate new designs for tires. Those softwares allow them to simulate road tests to compare the different parameters of a design and they also allow them to make representation of the molecular assembly to see how the material will influence the tire. After making multiple testings on the software, they can go to the prototype making step. It usually needs 4 to 5 prototypes to be able to get a satisfaying new model. Those are generally handmade, to later create an expensive mold for the mass production. This process is done every year.
The making process is very expensive. After creating the new tire, it will pass many different tests, like acoustic, resistance et performance on ice, to make sure that the tire is set to the higher norms of the industry. The Toyo Rubber installations were really impressive with the acoustic room and the different test machines that are worth many millions of dollars each. The company also have 2 tests tracks in Japan : one in Saroma in the North to test winter tires and one South for the summer testing.
We all enjoyed our experience at Toyo Rubber and it was very rewarding to see all the theories we see in our classes being used in a complex working environment. We all hope a future partnership will be established between ETS and this innovative company so that future engineers can have an internship in this wonderful country.