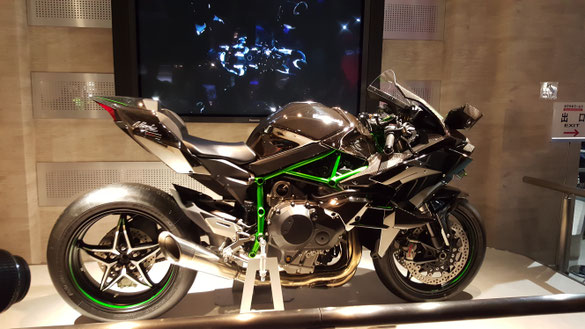 Thursday morning, we went to the Kawasaki world museum in Kobe.
---
Thursday morning, we visited the Kawasaki World Museum in the city of Kobe. At about an hour train ride from Kyoto, this city is well known for it's succulent Kobe beef. Mr Adashi was awaiting us at the entrance of the museum to give us a tour of the installations. We were very happy to meet him because he has been of great help for the mission. He also works for Kawasaki and is a fan of Quebec's culture.
We got the chance to have a guided tour given by the director of the museum himself and translated by Mr Adashi. Kawasaki is a public Japanese company funded in 1896. The name Kawasaki, not to be confused with the city Kawasaki, comes from his founder Shōzō Kawasaki who is from Kobe city.
The company has projects in many fields of interest like aerospace, rolling stocks, shipbuilding, industrial equipments and gas turbines. They also have a great history of bridge and infrasctructure building and, more recently, recycling plants for cities. They also make the famous kawasaki motorcycles. Therefore, the museum was very big and we had a lot of fun!
First we went through a brief timeline of the company showing the best realisations of each decades as well as the inventions that were made by Kawasaki. We then got to try a collection of sport motorcycles. We also entered the cabin of the first model of Shinkansen and admired a robot choregraphy. It was impressive to see how diversed the Kawasaki industries got to be in order to meet the needs of the Japanese.
We would have loved to see the factories themselves but the museum allowed us to have a better understanding of the Kawasaki industries as a whole as well as a better grasp of all the different domains in which they excel.
To end the day well, we went to try out that famous Kobe beef, renowned to be the fattiest and delicious beef in the world. By the way, it is possible to taste it in Canada since 2012. Even though our plates were pretty expensive (around 60$ per person), nobody had regrets. This is how our last official visit ended. We are now in the train heading to Narita's Airport.
See you in Canada!